South Indian Fish Curry by Executive Chef Manik Magotra, The 5* Luxury Oberoi Hotel Sahl Hasheesh, Egypt

Die Indische Küche umfasst viele verschiedene, regionale Gerichte und Kochstile. Charakteristisch sind Currys. Die südindische Küche ist scharf, daneben werden auch viele Speisen mit Curryblättern und Tamarinde gewürzt.
Dieses köstliche Indische Fish Curry, welches ich Euch gleich vorstellen möchte, kommt aus dem Süden von Indien und wird exklusiv für den lifestylezauber vom Chefkoch Manik Magotra zur Verfügung gestellt.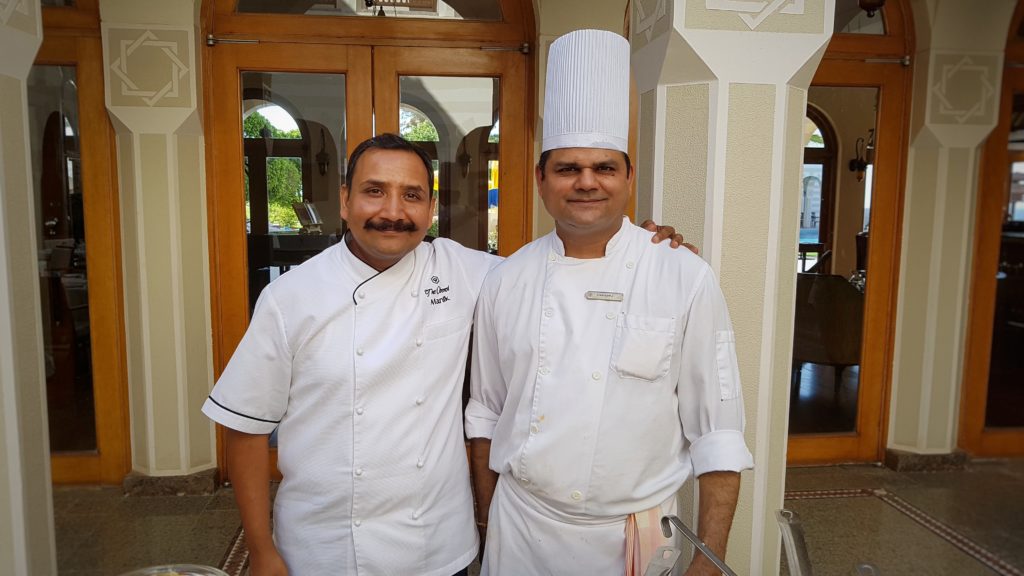 Links im Bild: Executive Chef Manik Magotra, Koch Chantra
Ich liebe die indische Küche mit ihren exotischen Gewürzen – kaum eine andere Küche bietet so viel Abwechslung und Vielfalt.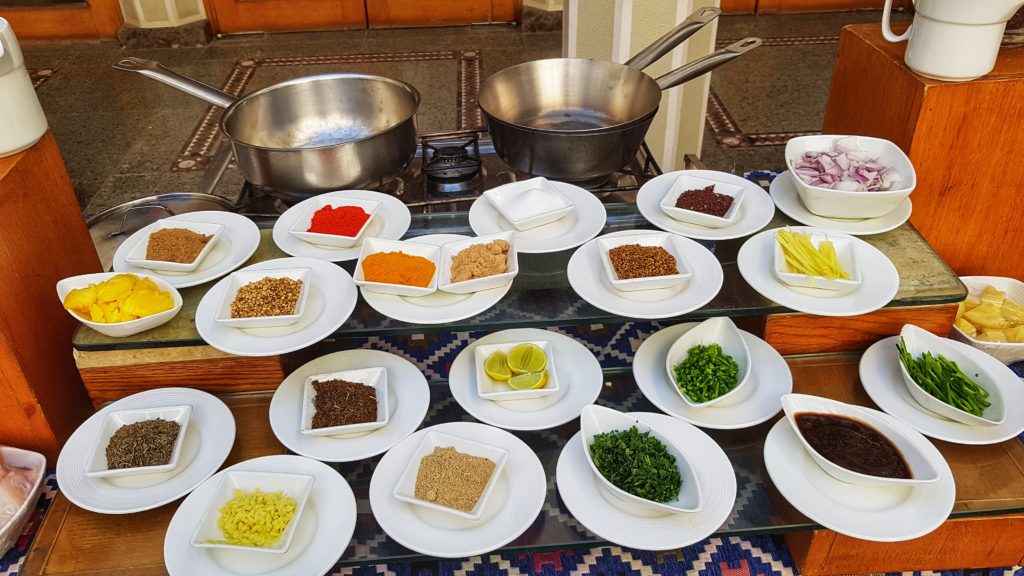 Privat Cooking – was für ein tolles Erlebnis. Ich komme aus dem Schwärmen gar nicht mehr raus, so interessant war es.
Für Euch habe ich selbstverständlich ein kleines Video gedreht, damit Ihr live dabei seid.
South Indian Fish Curry
Zutaten:
50 ml Curry Leaves
10 gms Black Mustard Seeds
5 gms Fenugreek Seeds
20 gms Ginger
100 gms Onion
25 gms Red Chili Powder
15 gms Turmeric
1 l Tomato Puree
500 ml Coconut Milk
30 gms Tamarind Paste
600 gms Fish Cubes
3-5 gms Salt
15 gms Fresh Coriander
Video Teil 1:
Video Teil 2:
Zubereitung:
1.In a pan heat refined oil and add curry leaves, black mustard seeds, fenugreek seeds, sliced ginger, green chilies and onion.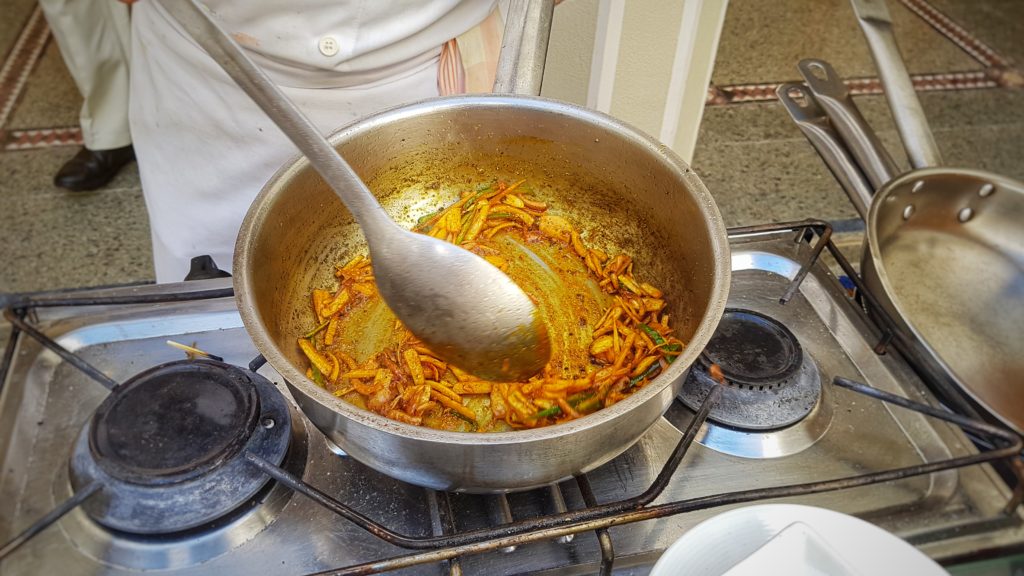 2. Once the onion is a little soft, add turmeric powder, red chili powder, tamarind paste and tomato puree.
3. Simmer for 5-6 minutes and add the coconut milk
4. Marinated the fish cubes with salt, red chili powder and turmeric powder and deep fry till crisp
5. Add the fish to the sauce and simmer till cooked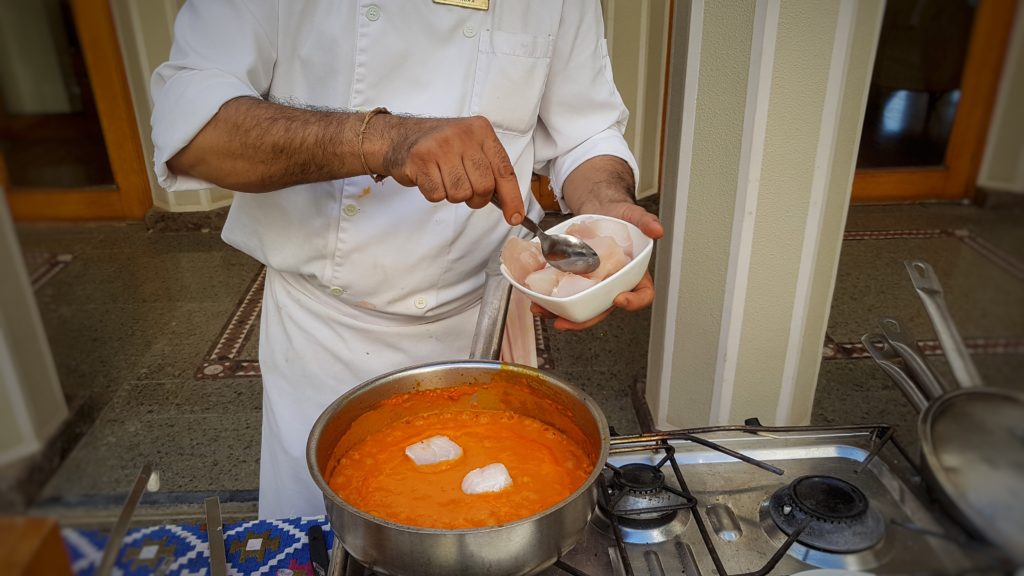 6. Finish with fresh coriander
7. Add salt serve hot with some steamed rice.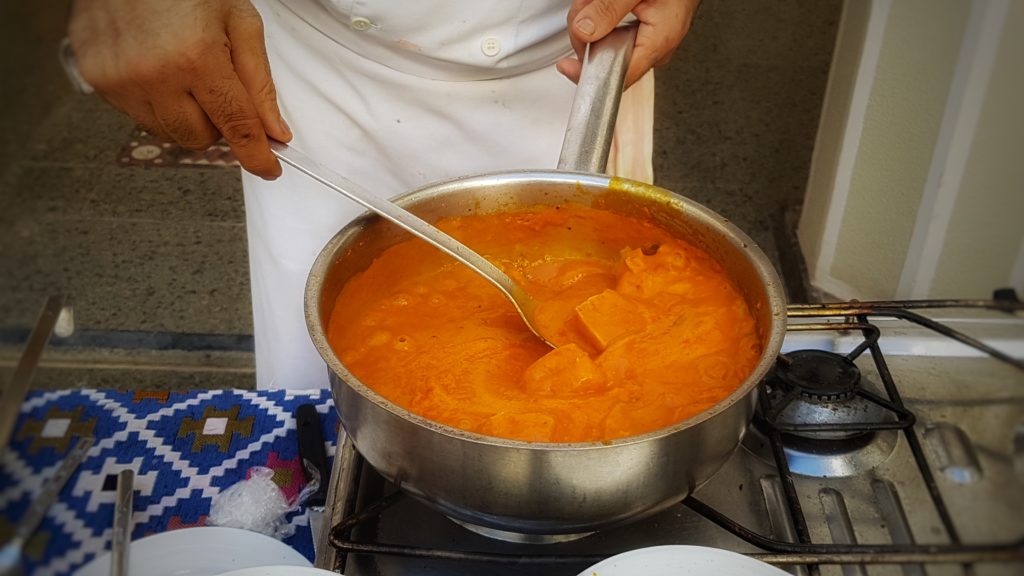 Und fertig ist das leckere Gericht – viel Spaß beim Nachkochen.